It's not easy to say which solution is right for your business, but it doesn't have to be. There are countless solutions on the market, and each has its advantages, there is no one answer when it comes to what type of software best suits your business.

The range of ERP systems on offer today is very diverse and the requirements for such a system are correspondingly high. When deciding for or against an ERP system, there is therefore a lot to consider. We have summarised the most important points in this article and enriched them with our expert advice.
Table of contents
What functions should an ERP system have?
The functionality of an ERP system should meet the requirements of the company. In particular, the company's own business processes must be taken into account here, which must be directly supported with the capabilities of an enterprise resource planning software (ERP system). In order to be able to assess whether the functions of the ERP system really support your business processes, you must first work out your requirements, processes and USP.
These are documented in an ERP specification. The requirement specification is a central documentation in which your organisational model is described with the idea concept of the supply chain and its management. The possible multitude of processes as well as the different ideas of process applications by the users, make the creation of a specification a challenge for all involved.

The users always find reasons and sufficient arguments why a certain business process that has existed for years should not be changed and must also be mapped in the new ERP system.
Expert advice: Functionality
Discuss intensively with your team and shed light on all aspects why a new enterprise resource planning system must support exactly these individual processes. Are these individual business processes part of a modern ERP system or do they have to be additionally "programmed" or adapted by the software? The more you give in to these individual ideas and requirements for the software in your company, the higher the costs will be later when introducing and maintaining the ERP system. This does not only apply to the installation of ERP software "on premise", but especially to the use of resource planning software as cloud ERP solutions.
Figure: Share of companies in Germany using ERP software by company size in 2021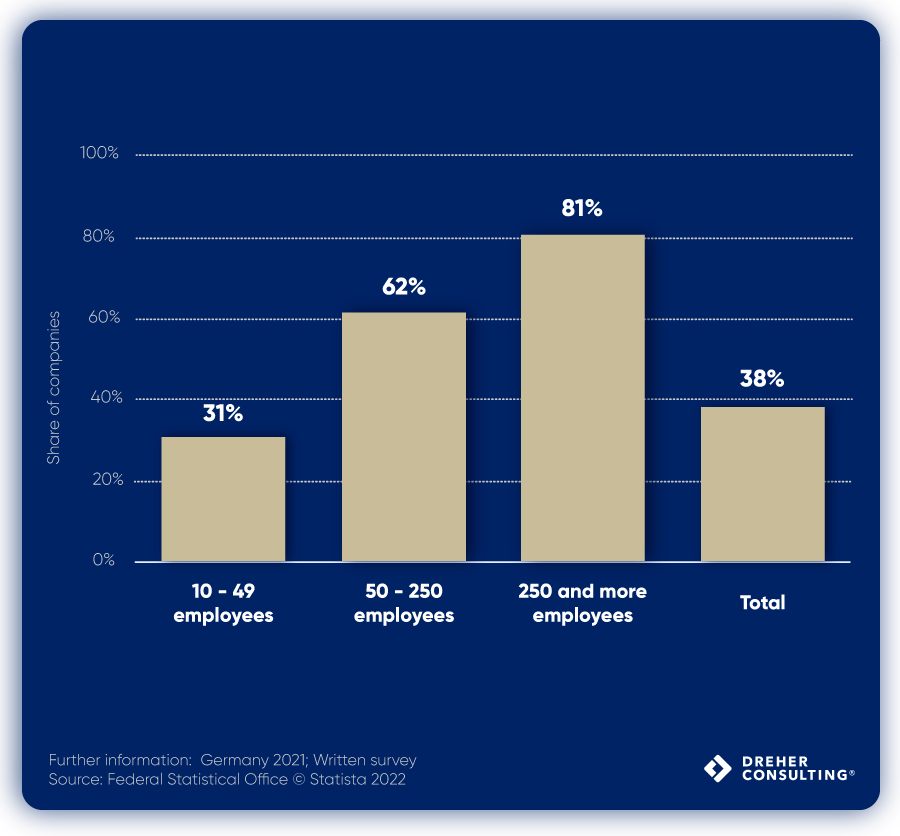 Adaptability of an ERP software system
An ERP system should be as flexible as possible to adapt to the needs of the company. The system should be easy for you to configure and adapt to the individual processes of your company without an ERP provider. You will then perceive the advantages of a modern ERP system - be it "on premise" or as a software-as-a-service solution - as support when your business model or your business processes change.
Expert Advice: Adaptability
Some of these modern systems allow users to increase their productivity by writing their own small applications, even with a little user training. With such functions, you can recognise and evaluate the differences between various ERP systems. Disadvantages and advantages of different solutions as well as the development of ERP systems can be assessed more easily. Which on premise system is preferred over a

Which on premise system will have the edge over a cloud solution or a neutral ERP suite when it comes to assessing the services of the future?
Integration of Enterprise Resource Planning Systems
An important capability to test is whether the ERP system can be integrated with existing systems. Databases distributed and used in the company supply data to an ERP system, depending on the industry. A shop system, a CAD solution or a master data management system for master data management can be mentioned as examples. The support of the ERP system must be guaranteed via interfaces and via the different systems.
Expert advice: Integration capability
Advertising about the ERP system's ability to integrate with other services or systems usually sounds promising. The truth, however, will certainly become apparent during the introduction of an ERP system. At this point, at the latest, it becomes clear what is advertising and what is reality. This point in time is "actually" already too late for such a statement. Therefore, be sure to create integration documentation in which you specify these requirements precisely. Get support from your company's specialist departments and IT when creating the requirements. Especially requirements in the context of the databases used or planned later are technically non-trivial.
ERP Systems are important for managing a company's resources
Enterprise Resource Planning (one of the reasons ERP systems exist) helps companies better manage their resources and make informed decisions about resource allocation. An ERP system takes care of resource planning for material requirements planning (classic material planning), production planning and workforce scheduling.

Initially, it does not matter whether the ERP system is used on premise or as a service in the cloud. When defining the requirements, it is necessary to determine where the database is located in which shop floor data collection (SFDC) and employee master data are managed. This may require different solutions depending on the ERP software. Some of the planning data is subject to data protection requirements and must be managed in databases in a protected manner.
Expert advice: Requirements for Enterprise Resource Planning
Especially with regard to shop floor data collection, timesheets, travel expenses and other information services, check that you meet the legal data protection requirements when designing the applications. You should regulate and document the functioning of the data exchange, the storage and access regulation of the databases. This is especially true if you choose a hybrid ERP system: In other words, a hybrid of on premise installation and cloud-based software. What data is exchanged via data lines that are not exclusively available to you?

Please also note: An ERP system is important for managing a company's resources, but ERP software can be difficult to implement. The requirements of implementing or introducing an ERP system will be discussed in more detail later in the article.
Figure: Investment priorities in the retail sector 2010 - 2022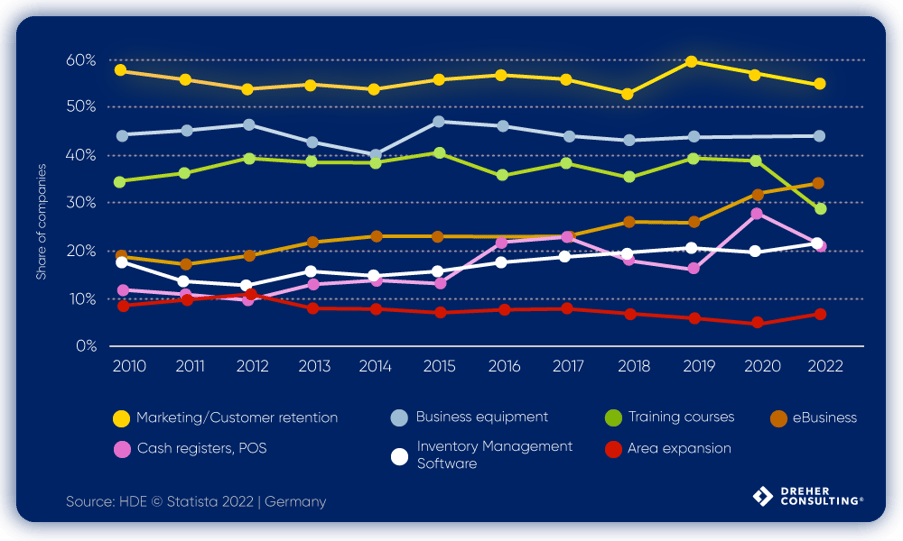 Why is the scalability of ERP software so important?
One of the most important aspects of an ERP system is its scalability. A scalable system is able to handle the increasing load as the business grows. As the number of users and transactions increases, the system can maintain its performance and stability. If the system is not scalable, it cannot keep up with the demands of the business and will eventually fail. This can lead to loss of revenue, productivity and even customer satisfaction. Therefore, it is necessary to scale software and choose a system that is capable of handling a heavier load.
Expert advice: Scalability
Don't just think about your own, organic growth, also discuss the possibility of setting up a second location for your company. In this context, it might be possible to buy out or acquire a stake in another company. This will give you clues to questions that you need to answer when using ERP systems as software as a service, different from the questions of an on premise installation. The main issues here are the resources you need to support an extended ERP system, the use of databases and much more. Especially with regard to possibly different resource planning methods, not every ERP system is able to realise different approaches in one system without additional services from the software provider.
Why is the reliability of an ERP system and ERP software crucial?
ERP software is used by companies to manage their business processes and critical operations. ERP systems are therefore critical to the success of any business.

As they provide management with information about business performance in addition to resource planning tasks, data, data bases, master data management and database integrity must be ensured. It is therefore important that an ERP system is reliable and secure.

This can be tested or verified in a number of ways, including third-party audits, user acceptance testing and system audits. Through these measures, companies can ensure that their ERP system is reliable and meets the needs of their business. You can usually buy these services from specialised consultants if you cannot test them yourself.
Expert advice: Reliability
There are several ways to test or verify the reliability of an ERP system. One way is to conduct a load test that simulates real data traffic and usage patterns. In this way, possible bottlenecks or weaknesses in the system can be identified. Another option is to conduct a security audit to ensure that the system is secure and protected from unauthorised access. Conducting a disaster recovery test will give you confidence that the recovery of the system will work in the event of a failure.

Unfortunately, these options are not really testable at the selection stage and before a decision is made on a software system. Load tests - also in the cloud - can be presented, applications can be tested and documented in the data centre or on premise. However, it should always be noted that it is seldom possible to depict and simulate a peak load as it can occur in daily operation. User stories or information from user groups can also be a good source of information. Specialised and independent ERP consultants can support you in this.
How much can an ERP system cost?
An ERP system is a big investment, both in terms of cost and in terms of the time the company itself needs for planning, for clarifying questions, for preparing business master data, forms management, etc. The cost of the software can be considerable and so is the time needed to implement and configure the system.

The cost of the software can be considerable and so can the time needed to implement and configure the system. Businesses should carefully consider all options before investing in an ERP system, as the costs cannot be recovered if the system is not successful. The range of investment for an ERP system or enterprise resource planning workstation depends on the modules used. Not only the database used, but also the functions for production planning, the use of platforms, the connection of e-commerce or shop systems, logistics, finance, services for implementation; all these functions and references and services have an influence on the investment sum of the procurement of an ERP system.
Figure: Survey - In which technologies should Germany invest now in order to become more technologically independent?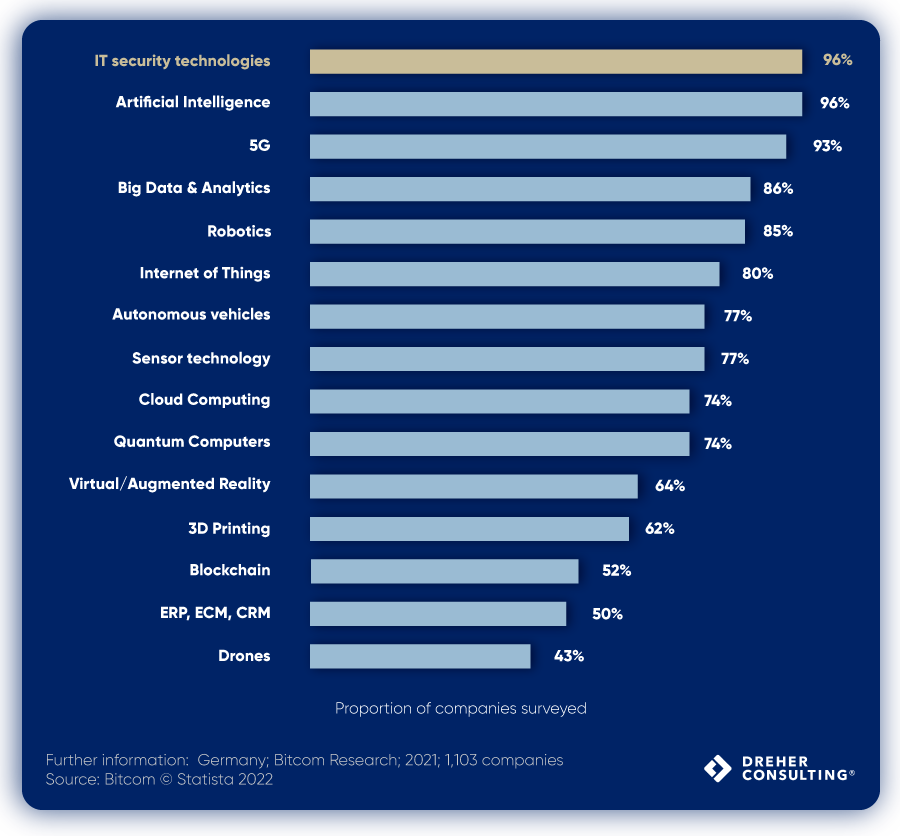 Expert advice: Costs Summary
Assume a range between 5,000 euros and 10,000 euros per user. This allows you to make a rough calculation. We know of ERP systems that required less investment in procurement, but these were also limited in functionality and range of functions. Likewise, we have seen orders of magnitude in the investment for highly integrated ERP systems that exceeded these figures.

Our recommendation is always to create a requirements specification in which you describe your business processes and document your supply chain requirements. The requirements specification is the basis and the common thread for the selection of your future ERP system. In addition, you can use it to obtain and evaluate the first reliable investment figures from the ERP providers and compare the offers with each other.
Summary in review
There are some important things you can do to reduce the risk of making the wrong ERP choice. First, it is important that you do your homework and know exactly what you want to achieve with the ERP system.

Next, create a detailed list of requirements (ERP specifications) and make sure that all potential vendors can clearly demonstrate that their system can meet all your needs. Finally, thoroughly evaluate each vendor. This includes not only the functionality of the systems, but the process support your company needs and expects. It doesn't matter whether an enterprise resource planning system is offered in the ERP cloud, as software as a service or installed on your premises. Also evaluate the track record and customer satisfaction of other companies that are comparable to you. However, keep in mind that only "satisfied and successful" projects will also be used as references, so be sceptical. By following these steps, you can minimise the risk of making a bad investment in an ERP system.