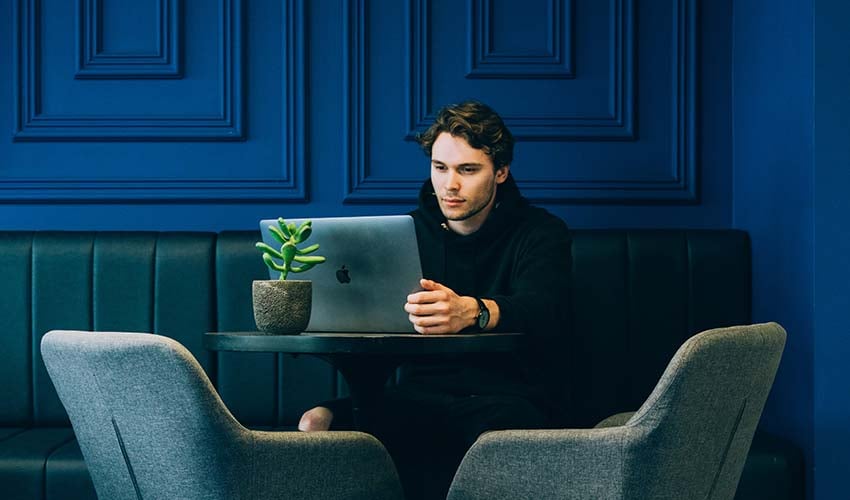 ERP Selection - with over 300 Systems on offer, this is not easy. A systematic approach helps to reduce the risks of selecting the wrong ERP System. For this purpose, we have developed an Implementation Model that has been continuously improved over the years.
ERP Selection - Risk Minimisation for Your ERP Project Success
In the meantime, there are ERP Software solutions for even the most unusual manufacturing processes. However, this does not make it any easier to decide in favour of an ERP Individual software, an ERP Industry package or an ERP Standard software. When choosing a suitable ERP software, one must be aware that one standard does not and cannot exist. There is no definition of an ERP standard, with only the area of financial accounting being subject to greater standardisation due to Legislation. As a result the term ERP Standard software always refers to the definition of the Software manufacturer, this is especially true when special sector software has been developed on the basis of ERP Systems. The ERP selection procedure presented below was developed on the basis of many ERP Projects, refined repeatedly, adapting to the exacting requirements of Digitalisation and SME Companies.
This ERP Procedure Model differs significantly from other, traditional ERP selection procedures. This Risk Minimisation Model has proven itself in practice and offers several significant advantages to Clients due to this modern, practice-oriented method fully involving the people, the employees, in all activities from the very beginning. This is why acceptance issues are rare especially in the later stages of the project during ERP introduction and employment.
Our ERP Selection Process Focus Points:
Situation Analysis and Definition of future and existing business processes
Definition of Requirements, documented in an ERP Specification sheet
Identification of potential ERP Software solutions
Qualification of potential ERP Software suppliers (ERP vendors)
ERP Contract Management and ERP Implementation
With this systematic and methodical procedure model, your team can directly and immediately apply the experience of years of successful ERP selection projects, saving you time, costs and reducing your risk of a wrong ERP selection.
How we Guarantee Independent ERP Selection for You?
1. Situational Analysis of Organisation, Digitalisation and ERP Starting Position:
We analyse your current initial situation (ERP readiness) by carrying out a situational analysis. Based on this, we calculate the necessary Organisational and Planning tasks for you to be able to successfully realise an ERP Project. This is the basis for a concept to define future business processes. In this way we want to achieve your competitive advantages with an ERP introduction.
2. Definition of the Requirements in an ERP Specification:
Based on a Situation Analysis, the requirements in your industry, your market and your I.T. and Digital Strategy, we provide you with the Blueprint of a Requirement Specification suitable for your company. This describes the requirements for business processes, identification and definition of process optimisation, the design of organisational models, customer requirements and communication with existing systems (interfaces). The specifications are one of the important bases for the selection of a potential ERP System. We are able to create this completely or, within the framework of a division of labour, divide this between the capacities of our customers and our ERP Consultants.
3. Identification and Selection of Potential ERP Software Solutions:
After defining processes that are mapped as Core processes in the ERP System, the pre-selection of software providers can take place. From our database, which over the years has contained a majority of the systems on the market, we can make an initial selection. We then define a focus criteria catalogue which is sent to potential providers. The evaluation of this focus criteria catalogue usually confirms our pre-selection from our ERP database.
4. Qualification of Potential ERP Software Suppliers (ERP Vendors):
A multi-stage qualification process reduces your risk of selecting the wrong ERP Software. We have invested in sophisticated, proven assessment techniques, questionnaires and checklists in place which require in . In presentations and Proof of Concepts (PoC) we have selection procedures in place where the potential ERP systems have to prove their usability based on your data and business models.
5. ERP Contract Management and ERP Implementation:
Based on our ERP Selection, ERP Consulting and ERP Project Management projects, we have a huge database of information highlighting the strengths and weaknesses of individual ERP Software Houses, pricing and bidding for ERP Projects. In addition, we have expert in depth knowledge within the areas requiring your attention within the Contract Management stage in order to successfully manage risks. We ensure this feature is always available in all our projects, as well as providing you with comprehensive support during the introduction of the ERP Software up to Acceptance and Test Management.
Risk Minimisation in ERP Selection
Our structured, multi-stage ERP Selection process significantly reduces the risks of a wrong decision being made. We have developed a 'Step Ladder' concept for this purpose: behind each step you will find checklists, procedure models, instructions, questionnaires and texts that you can implement immediately. In this way, we ensure that you receive an ERP System that is suitable and meets your requirements perfectly, through independent, unbiased ERP consulting. Our project work is always concluded with an extensive Test Management, ensuring that all processes function error free.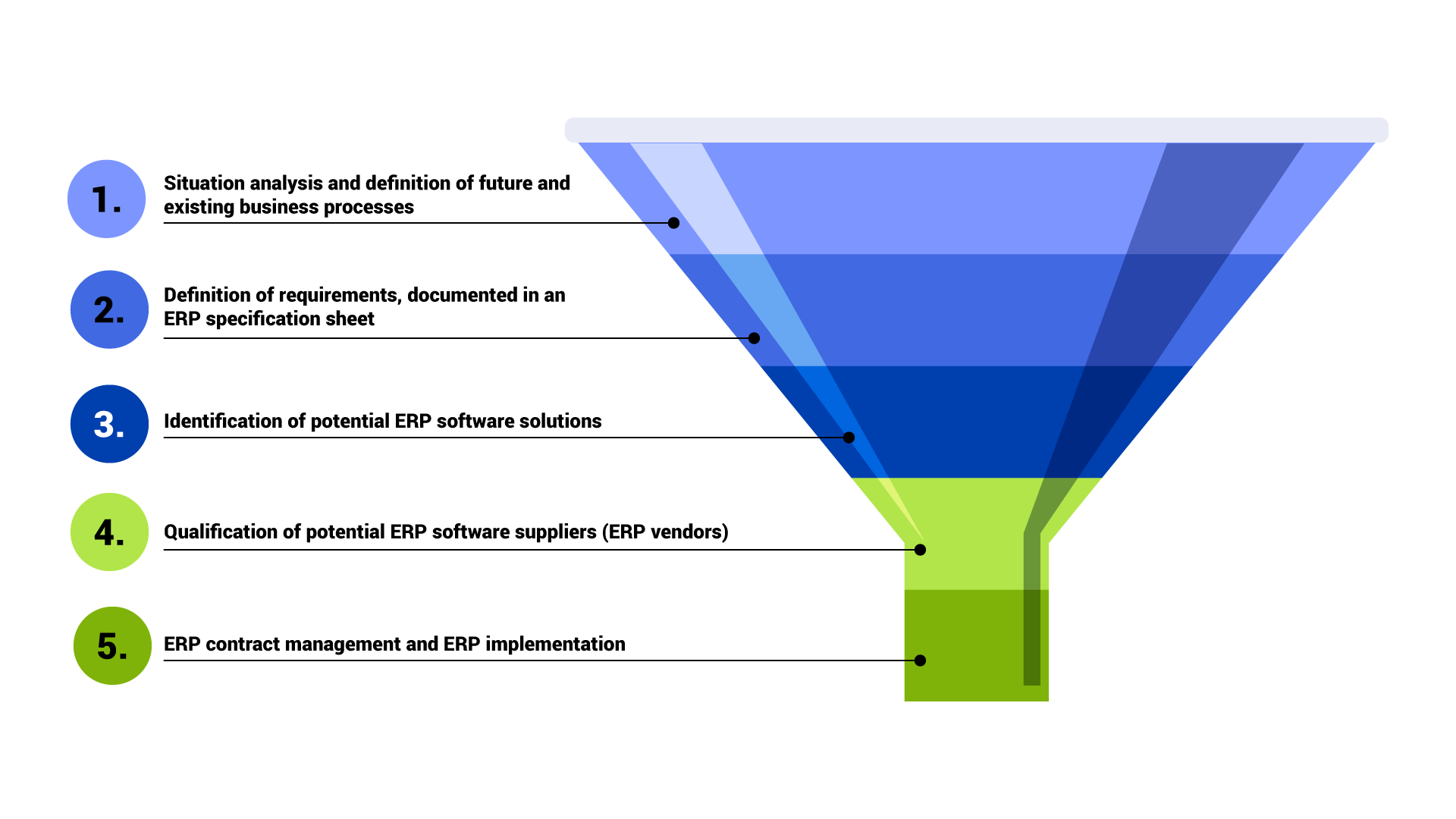 You receive a market overview of the ERP software that is suitable for you.
Based on the specifications and your Business Model, we identify the ERP Software providers that come into question.
We have a precise overview of the Cost and Performance structures in the market.
Best practice in the ERP Selection process model
Qualified ERP Specifications based on current and future requirements.
Tools and Quality Management to verify promised performance.
Experienced ERP Consultants support you from the very beginning.
Independent unbiased ERP selection.
We show you the Strengths and Weaknesses of the proposals and offers of the ERP Providers and help you to classify them.
Ensure that an ERP project can be carried out successfully.
Case Studies - ERP Consulting
Here you can deep dive and explore the real problems we have solved for our clients