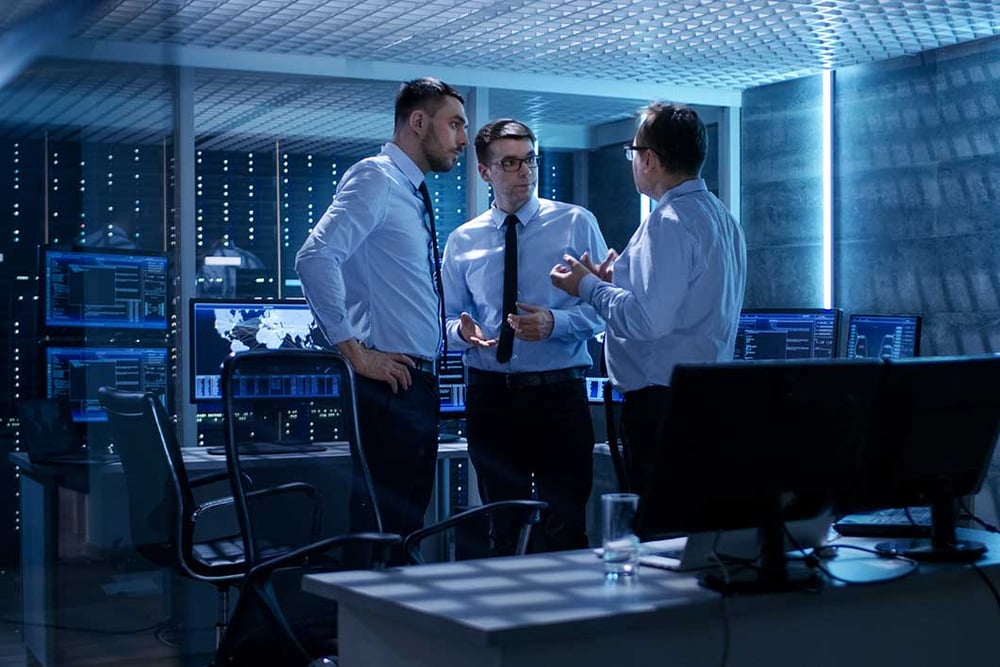 When thinking of Information Security Management Systems (ISMS), ISO/IEC 27001 is very often associated with it. The following answers demonstrate that an ISMS according to ISO/IEC 27001 is not necessarily the best choice for every company - and why independent advice on the subject of ISMS makes sense before the commencement of a project.
What Are the Benefits of Independent ISMS Consulting??
Due to a multitude of products and measures in the area of I.T. security, there is a risk of buying products that miss the target - the protection of your company - and drive up the costs. Through a targeted management approach, the need for your I.T. security is analysed, processes and tools are implemented to protect your company. The efficiency of existing measures is then put to the test and finally your resilience against cyber attacks is strengthened significantly reducing the risk of becoming a victim of a cyber attack. Simultaneously, processes are implemented that support the company should a cyber attack be successful.
Why Should You Implement ISMS?
An Information Security Management System (ISMS) systematically addresses the protection of your business. Often, the existing processes and systems that accompany us in our daily work have grown historically and there is often not enough time for a critical analysis of already existing structures. But all this does not change the fact that at the end of the day, the management is personally liable for information and resources lost due to a cyber attack. To counter the risk of a successful cyber attack, it makes sense to consider I.T. security as a holistic approach. A major challenge here is to identify and assess existing risks.
How Can ISMS Consulting Help You?
There are many normative frameworks for an ISMS. An ISMS according to ISO/IEC 27001 has become the standard. Depending on the industry, there are specific approaches derived from ISO/IEC 27001, such as TISAX for suppliers to the automotive industry or ISO/IEC 62443 - with a focus on the secure product lifecycle - for the Industrial Internet of Things (IIOT). If there are no external requirements for the company, selecting and adapting the existing frameworks can be a challenge. This is where independent advice helps to overview the individual circumstances and the appropriate scope of each company and thus prevent a wrong framework selection. As often mistakenly assumed, an ISMS does not only influence I.T. security, but all areas of a company. Often it is the first project with such far-reaching effects for those responsible for the project. An external consultancy supports the internal project team with the experience and perspectives of successful projects.
How Does ISMS Consulting Actually Work?
Analysis of the Status Quo
In the first phase, the current status of your company in information security is analysed and recorded. On the basis of this initial analysis, it can be determined what level of maturity your company has already reached and where there is a need for action.
Implementation
Depending on the size of the company and the current state of information security, there are different approaches to achieve quick and targeted success.
Top Down
If a management system already exists in the company and the focus is on achieving a certified ISMS system, the top-down approach makes sense. Here, the organisational course is first set before the implementation of measures in the company.
Bottom Up
The situation is different for smaller companies that want to improve their I.T. security but do not necessarily have certification in mind. In this case, it is worthwhile to start with the introduction of generally applicable measures in order to improve I.T. security quickly and efficiently.
Continuous Maintenance and Further Development
One of the most important steps in the development of an ISMS is the continuous improvement and further development of the system. Just as attackers are always finding new ways to carry out cyber attacks, an ISMS must also always be focussed upon new threats and technical innovations and constantly adapted.
This is What You Get From Our ISMS Consulting
Experienced ISMS Consultants who work as external Information Security Officers (ISO).
ISMS Consultants who are familiar with cyber attacks and have practical knowledge in this area as pentesters.
Product-independent consulting individually tailored to the needs of your company.
A framework for your ISMS that is tailor-made for your company.
ISMS Consultants who work in the field of Cyber Security and I.T. Security on a daily basis.


An ISMS that not only exists on paper, but is underpinned by concrete measures, processes and tools and thus represents an actual added value for the protection of your company.

I.T. Security and Cyber Security are fast-moving topics. Our Experts undergo continuous training and thus always have the latest knowledge and best practices from the field at their disposal.

We have a distinctive network of specialists, amongst others within the areas of cyber security incident response, legal advice, data protection and hardware implementation, so that you can get solutions from a single source.