DIGITAL TRANSFORMATION CONSULTING
Realising a Digital Transformation (the prerequisite is a Digital Strategy) of a Company, a Business Unit or a Public Administration is a great challenge for everyone involved. In most cases, this Digital Transformation is accompanied by a Change Management that covers all areas. Market focus, the value proposition to customers, the re-organisation of the supply chain and, above all, the value contribution of employees are essential focal points in a Digital Transformation. In many cases, a Digital Transformation is also necessary in order to be and remain competitive - especially in times of Covid 19. In order to be able to offer our Clients support for these tasks, we have developed the service:

The Digital Transformation Action Plan
Successfully implemented in coordination with Clients from Small to Medium-sized enterprises and public administrations. The start of a Digital Transformation initiative can be a major challenge for both Management and Employees due to the changes associated with the implementation of new technologies and IT, as well as with the management and associated optimisation of business processes.
What Do You Get as Part of a Digital Transformation Consultancy?
We do not build the tasks of a digital transformation as a strict plan to be worked through sequentially, instead we adopt an approach of 10 key success factors as part of our consultancy. We implement these within the context of our transformation initiatives. Activities and measures are processed both in parallel as well as sequentially. Nevertheless, this project procedure model is adapted to the requirements of your specific industry, your clients and your situation yet always including the key areas of leadership, strategy, implementation, I.T. technology and the ability to innovate in change management.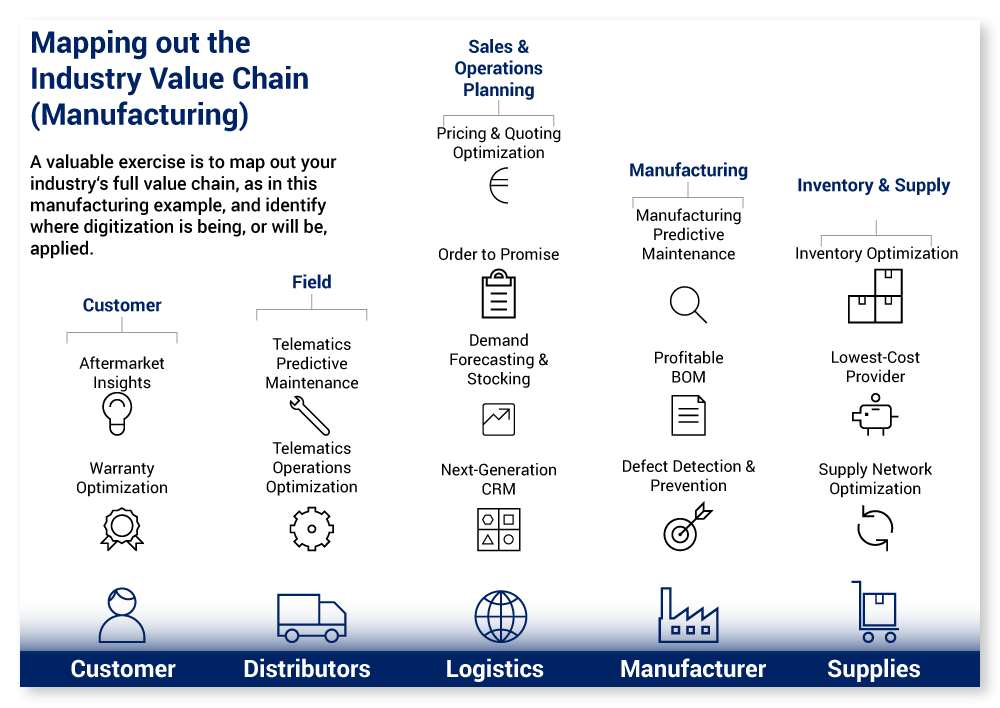 Together with you, we create a team to promote the Digital Transformation and establish it as an Implementation driver.
Together we define a strategic vision, developing a step-by-step procedure to achieve profits with the planned measures and to increase the business value.
We develop a joint 'Roadmap' a guide for the implementation of the Digital Transformation involving and on-boarding your employees. All measures derived from the strategy are examined for their direct economic benefit, implemented and readjusted if and where necessary. We jointly define an individual training guide so the digital transformation can be implemented easily with your employees.
As with all initiatives to improve competitiveness, a Digital Transformation also takes place in a competitive environment. We compare and evaluate your current Digital Capabilities with those of your direct competitors and in the context of industry leading examples.
Where does your industry stand overall in terms of Digital maturity? (Digital readiness). Who are the leading players in the digitalisation of your industry? What opportunities and methods are available to compare yourself with them?
We answer these and many more questions in a bespoke digital transformation initiative.
How Could Benchmarking be Designed if You Work With Us?
Review of current approaches to Digital Transformation in your industry.
Ranking your capabilities in comparison to other competitors and other companies.
Identifying best practices and process models of market leaders in digitalisation.
Develop a roadmap to improve online benchmarking capabilities to measure the degree of implementation of a Digital Transformation.
Another component of our Digital Transformation service is the assessment of your position in the context of disruptive factors that your industry or company may face. This means that we address with you that threats to your business model may come not only from known competitors, but also from unexpected new competitors. The past has clearly shown that the assessment on the position of digitalisation and transformation is often underestimated. These may well be competitors with a higher quality approach or low-cost newcomers or very nimble digital natives. Reputation management in a digital world, threats from IT security issues and PR problems are more important today than in previous eras.
Together with you, we create a digital transformation roadmap, with concrete tasks and milestones. The development and implementation speed for advanced ERP software or AI elements for transformation depends on your digital transformation and its readyness, as well as on your budget.
Our experience shows that a relatively small team can get two large AI applications and digital technologies on the road to digital transformation in six months.
Low Yield Processes
Under utilized or poorly allocated resources
Highly routine processes
Increased Customer Experience
Poor Customer understanding and slow learning
Formulaic Customer experiences and value propositions
Formulaic and inflated costs
Intermediary Traders
Re-defining of the Value Chain
Data and Analytics Platforms